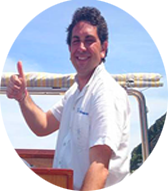 Welcome to the contact page, how could you know I'm a great specialist  and lover of the 'island of Capri, a tour with my boat is much more than a simple turn of the  island, if you need any tourist information about Capri , Please contact me Now!                             Camillo Gargiulo (Captain Capristartour)
Many ways to contact me:

Contact Now!

 329 080 5556  

329 080 5556

 Instant Chat 

 e-mail
Follow Me! 

 Facebook

 Instagram

 Linkedin

 Google 

 Twitter
Capristartour is top on Tripadvisor !!!