DO YOU WANT TO DISCOVER THE ISLAND OF CAPRI AND ITS WONDERFUL COASTLINE?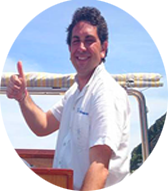 " If  you have decided to visit the island I suggest  some ways to discover the Island of Capri ! 
Only with our traditional wood boats will you have the opportunity to see  the 60 caves up closed and get into some of them ! "
HERE ARE MY TOURS

, CLICK AND ENJOY!   CLASSIC TOURS:
CLICK AND ENJOY!   SPECIAL TOURS:
DO YOU WANT TO TASTE OUR
TYPICALL FOOD ?

:
SPECIAL

OCCASION TO

REMEMBER ?
IF YOU HAVE NOT FOUND THE TOUR THAT MEETS YOUR NEEDS,  YOU CAN MIX THESE TOURS!  –> CONTACT ME NOW! <–

 

proud to have 100% positive feedback on
Tripadvisor
Information services Capristartour
Where can you find me?

Find me at the Harbor of Marina Grande di Capri, a short walk from the ferry landing, and for Naples and Sorrento Contact me now … Continue

How much do the Tour?

I offer the best prices ! please contact me immediately at number +39 329 080 5556 or … Continue

Can I book a tour?

Of course you can book any tours available and if you do not find what you want … contact me and I will recommend the best Continue

We may share the price of the tour?

Of course !  you share the boat tours with your friends or people inside  your Hotel

That accept payments?

For now we accept cash, bank transfers or postal we are organizing with the payments with credit cards and ATM circuit Cash, Visa, MasterCard, American Express

Accept dogs and cats on the boats?

We are animal  friends are and happy to welcome dogs and small pets traveling with you. Please contact me for more information Continued …

Agencies Hotels and Restaurants Friends !!!

I am happy to introduce my business to Tourist Agencies, Hotels and Restaurants and establish a relationship of friendship and mutual cooperation, please contact me immediately and continued …
Follow Capristartour on Social Network :